What is happening at LivingHistorySites this summer?
Several new and exciting things! We are looking forward to exploring history on our summer 2014 trip to South Carolina where we will be reviewing various sites in Columbia, the capital of South Carolina and coastal Charleston.....

We are also switching LivingHistorySites.com to a WordPress site that will allow you to search our content easier. Recategorizing information for historical sites, great dining locations and all the cool things to do in a particular location. We will have lists by city and by state, with suggested "things to do" and "things to see" packed with interesting tidbits and a realistic timeline!

Declaration Of Independence On Display In Johnson City TN. Today
http://www.tricities.com/tri/news/local/education/article/north_side_elementary_student_wins_declaration_of_independence_contest/24405/
By The Continuous News Desk

Published: May 21, 2009
Lillian Graybeal, a second-grader at Northside Elementary, won a contest for her song-writing and won a chance for her school to host the Declaration of Independence.
The original copy will be on display today from 11 a.m. until 1 p.m. The public is invited to view this document (it is at North Side Elementary, address below.)
The copy that will be on display is one of only 25 known copies of the Declaration which were printed by Philadelphia printer James Dunbar. Some 200 copies of the Declaration were made before its signing to be distributed to the 13 colonies. The copy which will be on display is owned by Hollywood producer Norman Lear.
Graybeal won this honor for her school by entering a contest in which she was challenged to re-write the words to the Keith Caradine song "Born American". The contest was sponsored by Milk Rocks "Declare Yourself Born Again American" in conjunction with the national nonprofit Born Again American Foundation.
I called the school and they were terrific! Simply go into the front of the school and SIGN IN. Then you can go down to the library to view the Declaration of Independence! Now THAT is the coolest thing since sliced bread – and within ½ an hour of virtually everyone reading this!
North Side Elementary School
1000 N Roan St
Johnson City, TN 37601
(423) 434-5249
Doors Open! 20 Local Historical Sites and Museums FREE
Where will LivingHistorySites.com be this weekend? Enjoy a FREE day of museum hopping in Northeast Tennessee! All of these museums will be free, http://www.heritageall.org/about/
Doors Open 2009! May is National Preservation Month, sponsored by the National Trust for Historic Preservation. Preservation Month highlights the historic buildings, cultural heritage, and dedication of preservationists to protecting and promoting our nation's treasures. One of our major programs for Preservation Month is Doors Open, celebrating our organization's partnership with local sites to highlight the history of our area.
Twenty local historic sites and museums open their doors free of charge for this day of learning and experiences with history. Visit any of these sites on Saturday, May 23 from 10-4 and receive free admission and immerse yourself in the rich treasures each of these sites has to offer. The following sites are participating in this year's event:

Andrew Johnson Museum and Library
Tusculum College Campus, Rt 107, Greeneville
Housed in the 1841 Academic Building known as "Old College" on the campus of Historic Tusculum College, the museum houses the archives and exhibits on the "oldest college in Tennessee" and memorabilia of President Johnson and his family.
Carter Masion
1013 Broad Street, Elizabethton
The Carter Mansion was built between 1775 and 1780, by John Carter and his son Landon, on lands bought from the Cherokee Indians. It is the oldest frame house in Tennessee and the structure reveals a finely detailed interior. Come experience this refuge in the wilderness, and see how the Carter family spent their days.
Col. J.F. Toney Memorial Library
201 Nolichucky Avenue, Erwin
The library is located in the fully restored Clinchfield Railroad Passenger Depot. Built in 1925, the building handled passengers until the mid 50s. With help from the local community, the building was lovingly restored and opened to the public in 1998. Come by to enjoy the architecture or the seminar on gardening provided by the University of Tennessee Extension Office.
Deery Inn
Main Street, Blountville
This two story Dutch clapboard structure was constructed in 1796 and served as a major way-station for the Old Stage Road. In 1801 the building was expanded to serve a variety of needs including a tavern, mercantile and hotel accommodations.
Dickson-Williams Mansion
108 North Irish Street, Greeneville
Completed in 1821 by Irish Immigrant William Dickson, this historic home once served as a command center during the civil war. Having changed hands several times, it has served as an academy, tobacco factory, an inn, and a hospital.

Exchange Place
4812 Orebank Road, Kingsport
Immerse yourself in the every day workings of a farm in 1850 with a visit to Exchange Place. We've got pigs to slop, chickens to feed, sheep to shear, and lots more chores to tend to. Also, come enjoy examples of early pioneer architecture while touring the grounds.
Fields-Penn 1860 House Museum
Corner of Main and Cummings Streets, Abingdon
Step into the world of nineteenth-century family life in Southwest Virginia. Completed in 1860, the Fields-Penn House features period furnishings, an herb and kitchen garden, and the William King Regional Arts Center's collection of decorative arts and material culture of the region.
Gray Fossil Musuem
Exit 13 off I-26, Gray
The ETSU Natural History Museum at the Gray Fossil Site contains fossilized remains of an entire ecosystem of plants and animals. You'll come face to face with a variety of interesting creatures, including the world's largest collection of fossil tapirs and the world's only near complete fossil red panda!

Hands On! Regional Museum
315 East Main Street, Johnson City
Fun for all ages! Hands On! is the place to discover interactive exhibits, programs and events. Visit Hands On! and become a scientist in the Eastman Discovery Lab, an artist in the Art Studio, a pilot in a real airplane, a shopper in the KinderMart, and so much more.

Museum at Mountain Home
Building 34 (Clock Tower), Vet. Affairs Grounds, Johnson City
The Museum tells the story of the history of health care in South Central Appalachia. Major exhibits include the office of Dr. A.J. Willis, who was a local family physician, early radiology, patent medicines, early life at the Veteran's Affairs complex, and more.
Nathanael Greene Museum
101 West McKee Street, Greeneville
The story of Greene County history is told through interesting galleries and displays on early agriculture, the Civil War, and the lives of Greene County residents. Make sure to stop in and discover a new look at the lives of African Americans in Greene County.
Oak Hill School
East Sabin Drive, Jonesborough
This restored one-room school house once served the Knob Creek community from 1886-1952 and was moved to this site once it was threatened by development. It is now operated by the Heritage Alliance. Stop in and see how the past and the present have been combined to create an award winning heritage education program..
Paramount Center for the Arts
518 State Street, Bristol
Listed on the National Register of Historic Places, the Paramount is an excellent example of the art deco motion picture palaces built in the late 1920s and early 1930s. The restoration, completed in spring of 1991, retained the Paramount's opulent, richly embellished interior. The deco ambience and many original features are here to enjoy on your tour of this beautiful venue.
Reece Museum
ETSU Campus, Johnson City
Initiated as a 1920s history project, the museum and its collections grew as a part of the university's library. Housed in the former Art Department building, the museum showcases an amazing collection of art and items highlighting the history of our region.
Salvage Warehouse
Intersection of 3rd Avenue and Depot Street, Jonesborough
Architectural salvage material will be available for sale through this unique open house. Come view our inventory of historic salvaged building materials and finishes. For more information on what is available, visit www.heritageall.org/warehouse.
Sycamore Shoals State Park
6151 West Elk Avenue, Elizabethton
As home to some of the most dramatic events in local 18th century history, the park provides a wide array of opportunities for visitors. Tour the re-created Fort Watauga, hike the two miles of trails, or enjoy the history of the park's museum during your visit.
Tipton Haynes State Historic Site
South Roan Street, Johnson City
Home of Colonel John Tipton, this Tennessee State Historic Site chronicles the experiences of early settlement through the Civil War. Eleven buildings tell the story of how two different families weathered the trails of war and celebrated the joys of victory, and highlights how each impacted the region.
Tusculum College Historic District
Route 107, Greeneville
Founded in 1794, Tusculum College is the oldest college in Tennessee. The wooded 140-acre Tusculum College campus has eight buildings and the Tusculum Arch that are listed on the National Register of Historic Places. Two guided tours will depart from the President Andrew Johnson Museum at 11 am and 2 pm.
Unicoi County Heritage Museum
Old Erwin Highway, Erwin
Built in 1903 as a home for the Superintendent of the Erwin Fish Hatchery, this home was restored in the 1980s as a local museum and community events venue. Today, the home showcases period décor and local history, giving visitors a glimpse of Erwin's rich past.
William King Regional Arts Center
415 Academy Drive, Abingdon
Located in a rehabilitated 1913 school, the museum showcases the fine art of the region and of the world in its galleries. It also hosts exhibitions of material culture and decorative arts through a research project which works to promote our region's cultural legacy.
Doors Open
The Doors Open program began in France and has been replicated in communities around the world. Our version of the program includes sites from throughout the region, and provides an opportunity for local residents to explore the historic sites, museums and other attractions in our own backyard. Check our calendar for a listing of dates, times, and locations of our next Doors Open Event.
Forgotten Franklin letters offer glimpse into U.S. history
From CNN  LONDON, England (CNN) -- An American professor doing research in London stumbled across a series of previously unknown letters written by, to, and about Benjamin Franklin, a stunning find that sheds new light on early U.S. history.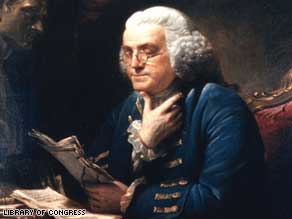 The letters cover Benjamin Franklin's success in dealing with a British general.
var CNN_ArticleChanger = new CNN_imageChanger('cnnImgChngr','/2009/US/04/25/uk.franklin.letters/imgChng/p1-0.init.exclude.html',1,1); //CNN.imageChanger.load('cnnImgChngr','imgChng/p1-0.exclude.html');
The collection of 47 letters are hand-written copies made 250 years ago, when Franklin lived in London. That they were filed under the copyist's name, not Franklin's, may explain why they were overlooked by historians until now, said a curator at the British Library, where the letters are held.
The find is reported in the April issue of the William & Mary Quarterly, a journal of early American history and culture.
The letters are important in large part because they offer a "wealth of new details" that affect modern understanding of Franklin, writes Alan Houston, the political science professor who discovered the letters in the spring of 2007.
They also raise the question of how many other documents remain waiting to be found on Franklin and his life.
Story Highlights
Collection of letters by, to, and about Benjamin Franklin found in London
Letters were copied by hand and had been filed under copyist's name
Letters concern war between British and French for control of North America
Franklin was sent to London in 1757 to represent Pennsylvania's assembly
'Siege of Fort Watauga' to be re-enacted at site
By John Thompson
Elizabethton Bureau Chief
This email address is being protected from spambots. You need JavaScript enabled to view it.
ELIZABETHTON — One of the most famous events in Carter County history took place in 1776, when Cherokee warriors attacked the Watauga Settlements.
That event will be memorialized this weekend at Sycamore Shoals State Historic Area, when the region's best re-enactors present the "Siege of Fort Watauga."
Admission to the event is free and visitors will be treated to daily battles, discussions by an expert on the Longhunters, and ongoing demonstrations of how things were done on the frontier in the climactic year of 1776.
The featured speaker will be John Curry, one of the nation's foremost experts on the Longhunters. He has spent decades following the paths of the first pioneers into the mountains of Virginia, Western North Carolina, Tennessee and Kentucky. He writes a monthly column, "Wilderness Writings," for the National Muzzle Loading Association's Muzzle Blasts magazine.
The annual event is sponsored by the Company of Overmountain Men.
The schedule is as follows:
Saturday
 9 a.m.: Officers' meeting.
 9:45 a.m.: Group colors and company inspection.
 10 a.m.: Skillet-toss contest, a contest for women to see who can throw a skillet the farthest.
 10:30 a.m.: Tomahawk-throwing contest, a contest for men and women to see who can throw a tomahawk the most accurately.
 11 a.m.: Fire-starting contest, a contest for men and women to see who can start a fire the fastest using 18th century methods.
 1 p.m.: Battle re-enactment, Siege of Fort Watauga.
 2 p.m.: John Curry seminar, Longhunter, author and filmmaker will discuss the Longhunters in the Tennessee wilderness in the 18th century.
 3:30 p.m.: Life in the native camp, Cherokee re-enactors will discuss their ways and lifestyles in their camps.
 4:30 p.m.: Husband-calling contest, contest for women to call their husbands. Winner will be decided by the audience.
 5 p.m. Camp closes
Sunday
 9 a.m.: Camp to camp inspection.
 9:45 a.m.: Colors.
 10:30 a.m.: Divine service conducted in 18th century style.
 11 a.m.: Alexander Campbell, presentation by Campbell, including the recruitment of children into the service.
 2 p.m.: Battle re-enactment, the Siege of Fort Watauga
 3 p.m.: John Curry seminar.
 4 p.m.: Camp closes.
"Historic Blountville... Gateway to the West!"
Received this from our local homeschool loop!
Step back in time... Tour the Old Deery Inn & Museum and see the recently restored old Brick Kitchen located near the secret garden behind the Inn. Listen to that sweet sound of mountain music wafting from the doors of the Anderson Townhouse, an historic 2-story log structure dating back to the 1800s.
Then let your imagination travel backward in time to when you were a child... Remember playing cowboys with a gang of outlaws, pretending you were in the Old West? Gotcha covered! Watch out for Wyatt Earp, Doc Holliday and a notorious band of outlaws roaming the streets throughout the day as a re-enactment of the famous "Shootout at OK Corral" comes to life before your very eyes! Imagine!
But, wait! You say historic Blountville was in the Old West? Hardly! But we invite you to come visit historic Blountville on Sat., May 23, 2009 as we use our unique little town as a backdrop for fact and fantasy... Sure to be a day of fun for the entire family!