What is happening at LivingHistorySites this summer?
Several new and exciting things! We are looking forward to exploring history on our summer 2014 trip to South Carolina where we will be reviewing various sites in Columbia, the capital of South Carolina and coastal Charleston.....

We are also switching LivingHistorySites.com to a WordPress site that will allow you to search our content easier. Recategorizing information for historical sites, great dining locations and all the cool things to do in a particular location. We will have lists by city and by state, with suggested "things to do" and "things to see" packed with interesting tidbits and a realistic timeline!

LivingHistorySites.com postpones Appomattox Trip
With a heavy heart, we have decided to postpone our Appomattox Trip until next year. We are just regular folks out exploring history on our own! Life is getting in the way of some of our travel plans! Emily and I are still recovering from our accident in March, and I am feeling worn out, achy and not up to a 5 hour trip each way. Sigh! It is amazing how much being rear ended AFFECTS the quality of life, and the ability to do what you are put on this earth to do. I am simply NOT up to an Appomattox trip this weekend, trooping all over, photographing it and then writing about it. LivingHistorySites.com is about capturing an event for our readers, and the accident certainly affects the ability to write, hindering the natural flow of words tremendously on the bad days.
After checking with the park service, we are comforted a bit by waiting a year. This year they have living historians, authors and park speakers and all sorts of great things planned for the 144th. Next year, they will have the same and perhaps an actual Gen Lee and Gen Grant for the 145th Anniversary in 2010. Not sure yet on the Generals. That certainly sweetens the fact the limitations we face recovering from being rear-ended TWICE in less than 6 months! 
Here is a great Civil War Timeline, courtesy of the folks at the Civil War Gazette! 
And Civil War Reenactors, Units, Campaigners and Sutlers list of living history events around the country from HQ!
LivingHistorySites.com to visit 144th Anniversary of Surrender at Appomattox

LivingHistorySites.com is going to visit 144th Anniversary of General Robert E. Lee's Surrender at Appomattox the second weekend in April, 2009.
LivingHistorySites.com will be visiting and writing travel reviews on: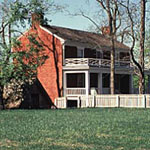 Historical Sites in Appomattox
Appomattox Court House National Historical Park 144th Anniversary of Surrender
Appomattox Historical Museum
Clover Hill History Village
Hazel Moon Resource Center (closed?)
Turn of the Century Walking Tour
Appomattox History Trail
Appomattox Visitor's Center
Lodging Possibilities
The Babcock House
Longacre B&B
Spring Grove Farm B&B
Appomattox Victorian Rental
TBD
Dining and Restaurant Possibilities
The Appomattox Tea Room
Baines Books and Coffees
The Babcock House
Gypsy Baker
Granny Bee's
Appomattox Country Buffet 
We are looking forward to figuring out the best historical sites, Bed and Breakfasts and restaurants to complete a total history package in Appomattox in time for the 145th anniversary of the surrender of Gen Lee. Civil War buffs will love to know exactly WHERE to go when visiting Appomattix in the upcoming Civil War anniversaries of the surrender.
Bedford VA
On the way home, we will pop into Thomas Jefferson's Poplar Forest for a tour of his inventive octaganol house. We cannot wait to write the travel review on this one for LivingHistorySites.com.
We will also honor the heroes of D-Day by visiting the D-Day Memorial in Bedford VA. The 65th Anniversary of D-Day is coming up in June of 2009.  
"Gap Divided" an authentic War Between the States ~ Cumberland Gap TN
Look for LivingHistorySites.com at
"Gap Divided" an authentic War Between the States 
Apr 25, 2009 - Apr 26, 2009 8:00 am
Cumberland Gap, Tennessee
Town of Cumberland Gap invites you to the "Gap Divided" an authentic War Between the States living history and reenactment. This year the event is set for April 25-26, 2009.

Visitors will be able to see the battles close up as well as infantry, cavalry, and artillery demonstrations. There will be opportunities to visit authentic Civil War encampments, and eight stations presenting civil war talks and demonstration on equipment and different branches of the army. The Ladies will have a Period Tea and Fashion show. This year there will be an authentic period wedding. Sunday is an abbreviated day with period church services and other Civil War activities before the soldiers start moving out at 4pm.

For photos, schedule, map and details, visit www.townofcumberlandgap.com or www.63rdtennessee.org.

April 25, 2009
8:00 am -8:00 pm
April 26, 2009
9:00 am - 4:00 pm

Linda Moyers 423-869-3860, courtesy of http://www.volunteertv.com/community/events?c=y&date=4/25/2009 
LivingHistorySites.com Posts 2009 Schedule
Oh the places we can go! Wow, we are just pulling together a beginning schedule for 2009 and what a year we have ahead of us writing travel journalism reviews all over the United States!
The American Civil War will be well reported by LivingHistorySites.com in 2009, with various reenactments, living history demonstrations, and anniversary celebrations. We are trying to fit as many of the 145th and 150th Civil War anniversary events happening. The goal, to give our LivingHistorySites.com readers a heads up on the BEST events coming up! We want you to know where to go, what to expect, where to stay and great places to eat and have treats! So far, in-between Dave's on-call schedule, helping plant a new church, and our personal schedule, not to mention a limited travel budget, we are still getting some GREAT ones in for 2009!
We will go to the 144th Anniversary of the surrender of General Lee at Appomattox in April (so you know what to do for the BIG 145th at Appomattox), the 145th Anniversary of Bull's Gap in Greeneville TN in May, the Battle of Saltville VA (those salt mines were important in the War Between the States)in August, another trip to Atlanta for the 145th Anniversary of the Atlanta Campaign (where Sherman took Atlanta down) and ending with what started the whole Civil War, the 150th Anniversary of John Brown's Raid, in Harper's Ferry WV. We will cover 4 different states in this sweep of Civil War history, with many more to come!
To celebrate, Emily is picking out the fabric for a new Civil War dress. She has grown from a young girl reenacting the games of childhood, to a young lady. In the Civil War, that marks a definite change in dress (with the accompanying undergarments, if truth be told). Look forward to a new period correct Civil War gown debuting in time for her birthday in July, which she will wear to the 145th Anniversary of the epic battle for Atlanta happening Labor Day Weekend.
We will also continue our focus on the area we live in, Northeast Tennessee and Southwest Virginia. We are going to scour the area finding the best living history sites and report on our own backyard! Why have this site about the whole United States and not proudly display the magnificent history in our own backyard!
LivingHistorySites.com is also going to focus on a special Christmas section. There are so many wonderful holiday events happening at museums, living history and historical homes, all over. We will start bringing you the best of historical Christmas celebrations from all over the United States!
As a surprise, we are hoping to journey home for Christmas and report on some great historical events in California. We shall see!
HEALTH NAMES THE HEALTHIEST RESTAURANTS IN AMERICA
Magazine Picks Top 10 Healthiest Sit-Down Chain Restaurants,
Top Five Fast Food, and Best Independents
New York, NY – HEALTH magazine names America's healthiest restaurants in its April issue. All the restaurants were judged on criteria including healthy food preparation, whole grains on the menu, limited or no trans-fats in all dishes, low-sodium options, portion control, and how easily the costumer can access nutritional information. The panel of experts sifted through hundreds of eateries to come up with the best in three different categories; Top 10 sit-down chain restaurants, top five fast food spots, and the best independents. Plus, we tell you what our experts loved on each menu, what to stay away from and on www.health.com we list some of the unhealthiest places. The April issue is on newsstands now.
TOP 10 SIT-DOWN CHAIN RESTAURANTS
1. UNO Chicago Grill – Though its famous deep-dish pizza is high in fat, Uno's restaurants have plenty of healthy choices on their menu which is completely trans fat free. From grilled entrées (including antibiotic-free chicken), whole-grain pasta and brown rice, to flatbread pizzas with half the calories of deep-dish ones, Uno's is taking nutrition seriously. Plus, in the lobbies of most locations there are Nutrition Information Centers.
2. Souplantation & Sweet Tomatoes – This salad-soup-and-bakery eatery uses produce so fresh that it's been guaranteed to have been "in the ground" 24 hours before it's in a refrigerated truck on its way to the restaurant. At the salad bar you'll find seasonal veggies, great salads and a range of non-fat dressings.
3. Mimi's Café – This cozy café-style restaurant transforms normally less-than-healthy foods into better (and still tasty) potions. They also keep their portions small so you can occasionally get away with having one of their more indulgent entrees.
4. P.F. Chang's China Bistro – Healthy dining here comes in the form of whole-grain brown rice, sustainable Alaskan salmon, all-natural chicken, wok-based cooking (which requires less oil), and less sodium in the sauces.
5. Bob Evans – A surprising entry on the list, Bob Evans scores on its dinner menu which has plenty of low-carb, low-fat entrees and alternatives for children and adults (chicken tenders are grilled instead of fried).
6. Ruby Tuesday – It's easy to find good stuff on this menu like organic greens, trans fat-free frying oil, and better-for-you beverages like organic teas and all natural lemonade.
7. Romano's Macaroni Grill – What pushed Macaroni Grill onto the top 10 list is its "Sensible Fare" menu, being able to substitute whole-wheat penne in any dish and including a grilled skinless chicken breast with steamed broccoli and pasta on the kid's menu.
8. Chevy's Fresh Mex – Chevy's makes a big deal out of the "fresh" in its name and with good reason including: no cans in the restaurant, fresh salsa blended every hour, and fresh avocados smashed daily for guacamole. All oils are trans fat-free, and the Mexican-style fare has lots of healthy options.
9. Olive Garden – Like Macaroni Grill, this Italian eatery has great-for-you options, as long as you keep your wits about you. Use the olive-branch icon to find low-fat garden fare. You can grab whole-grain goodness too by substituting whole-wheat linguine for any pasta.
10. Denny's – Another surprising addition to the list, Denny's offers lots of skinny options to counter its fatty mainstays. "Fit-Fare" dishes all have less than 15 grams of fat each. Their use of trans fats to cook its French fries kept it from landing higher on the list, but the rest of the fried food is trans fat-free.
TOP FIVE FAST-FOOD SPOTS
1. Noodles & Company – This restaurant combines 19 fresh vegetables with seven types of pastas in Asian, Mediterranean, or American entrees.
2. Chipotle Mexican Grill – They use naturally raised, antibiotic-free meats, organic beans, and even hormone-free sour cream. The Corn tortillas give you a whole-grain option, and the tortilla-less Burrito Bowl lets you ramp up the protein and veggies.
3. Cosi – Cosi's central theme, the hearth, yields tasty hearth-baked entrees like Alpine Chicken and Grilled Wild Alaskan Salmon. High marks for baby carrots as substitute for chips to go with their sandwiches.
4. Panera – Look to Panera's soups for low-calorie and low-sodium options. Fresh fruit cups and apples make for healthy sides.
5. Au Bon Pain – This chain boasts hormone and antibiotic-free chicken. Plus, it provides computerized kiosks, available in most locations, with nutrition information.
THE BEST INDEPENDENTS
• Blue Hill – New York City: Since 2000 this Greenwich Village restaurant has been using produce and animals from Stone Barns Center, a four-season farm and educational center.
• M Café – Los Angeles: This café makes macrobiotic cuisine incredibly tasty fare.
• Chez Panisse – Berkeley, CA: A longtime leader in the movement to showcase organic ingredients, cooked in simple, healthy, and delicious ways, Chez Panisse offers a daily menu that includes vegetables fresh from the garden, fruit right off the branch and fish straight from the sea.
• Green Zebra – Chicago: This vegetarian-oriented menu stands out with its creative and flavorful pairings.
• Inn Season Café – Detroit: Whole-grain burgers and lasagnas with veggies rule in this eatery.
• Bacchanalia – Atlanta: The husband-and-wife team and co-owners supply much of the restaurant's organic offerings from their own farm.
Health (www.Health.com) is America's most-trusted health-and-wellness magazine, giving women credible, useful, and up-to-date information and inspiration on how to live healthier, happier lives. Health covers well-being, fitness, nutrition, and beauty with intelligence and flair, showing that healthy living isn't just important — it's fun, too. The magazine is published 10 times a year, reaching 7 million readers with each issue.A leader in lifestyle information, Birmingham, Ala.-based Southern Progress Corporation A leader in lifestyle information, Birmingham, Ala.-based Southern Progress Corporation (www.southernprogress.com) publishes Southern Living, Cooking Light, Health, Coastal Living, Southern Accents, Cottage Living, and Sunset magazines, and books through Oxmoor House. It also operates a direct-selling division, Southern Living At HOME, and has a strong Web presence through branded portals, including MyRecipes.com and MyHomeIdeas.com, as well as 10 individual Web sites. Southern Progress is a subsidiary of Time Inc.